Dem Sockel (for/of the plinth)
Cold cast aluminium, epoxy resin, steel cable
Karl Vaupel 2013
Dem Sockel is a machine for storing tension. The cantilever over the edge of the plinth allows it's owner to store her own stress and tension in the steel strings of the artwork.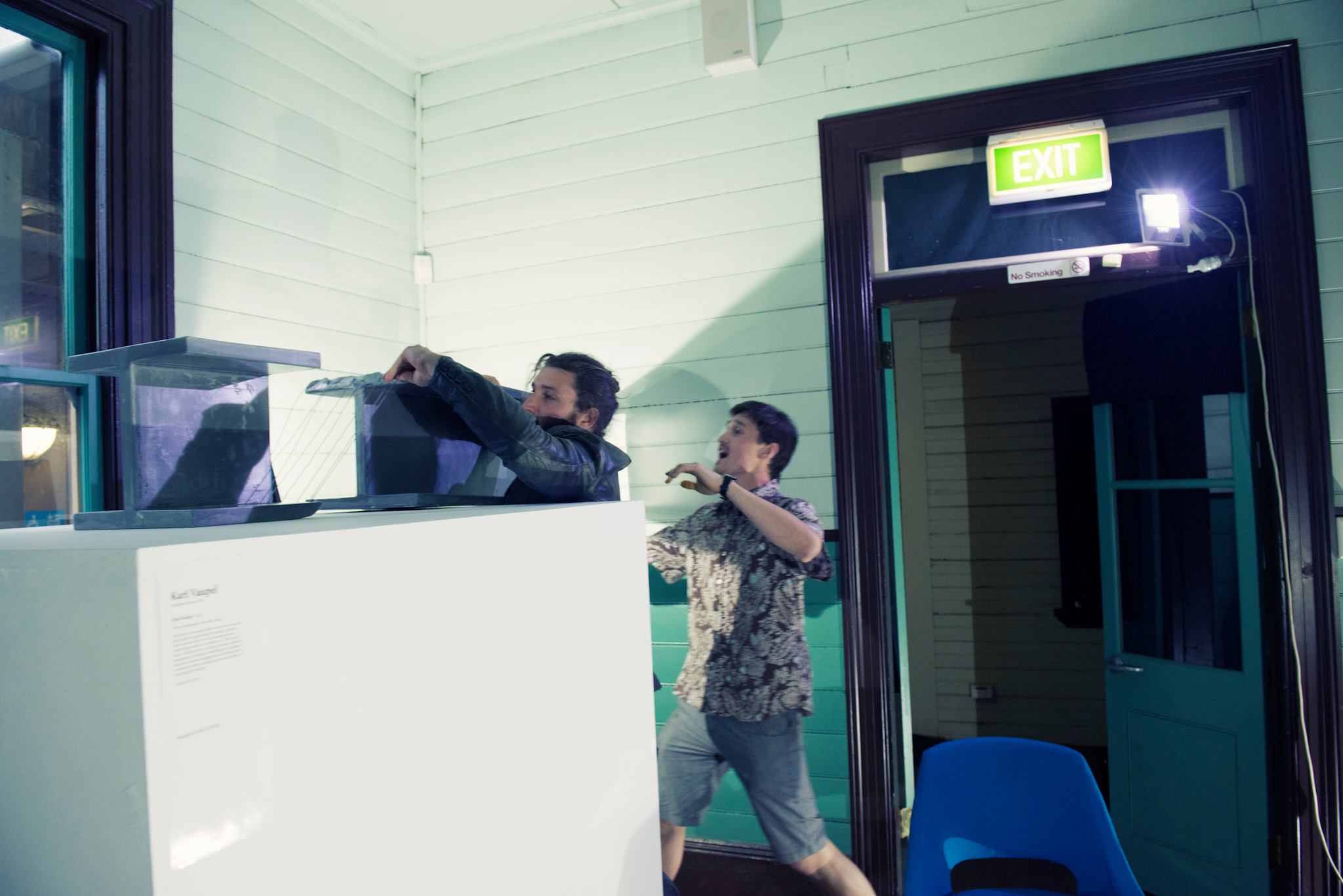 Art Wank

Seam Symposium theme: audience, authorship and curation
The role of an audience in the exhibition of art is to repay the investment of creating and exhibiting the work by either paying for it through sales or increasing the reputation of artist to facilitate future sales (or make him happy).
The primary audience of a physical artwork must be reconsidered in the digital age. The coverage of an artwork (advertising and documentation) will reach a much larger audience and have a bigger impact than the physical piece.
The authorship of a work was once considered an emotional expression irrespective of monetary value or use. An artist can no longer be presumed to be that naive if he is able to navigate the commercial art word well enough to make a living from it.
The artwork and it's presentation are a tool to create an image of the artist. All artists are aware of this and manipulate it to varying degrees. I want to demonstrate this by using common techniques to a slightly exaggerated extent, creating a caricature of myself as a commercial artist. To prevent alienating this audience by being completely self referential, all artworks including mine must stimulate emotions or intellectual responses to entertain the audience.
Curation, the selection of valuable works (culturally and monetarily) and their promotion is done by the audience. Some audience members have more power than others, such as gallery curators and media critics. The influence of respected social figures has always been important, this is now more public and reaches a larger audience via social media.
This power comes from an ability to influence the reputation and exposure of the artist. The ultimate power of curation - remains with those that in influence the production of art: the buyers, funding bodies, markers and the whim of the artist.
audience response:
The viewer will have a strong opinion and ask:
Which of the statements made do i agree with?
Do i brand myself?
How scripted are most interviews, how planned was this video?
Do i like the work of Karl Vaupel, is it all fake?
 
comparisons:
Kanye West interview with Zane Lowe
Damien Hirst critics
Guenter Grass - ss officer "was gesagt werden muss"
Obvious lip syncing at pop concerts
Banksy "exit through the gift shop"
Seam Symposium 2013 was held at The Drill Hall Walsh Bay